Con season is in full swing, and we all know what that means—Cosplay!!! Now, I'm about as crafty as a drunk bird, so my goal is to help you take your cosplay game to the next level…through tutorials or with your wallet.
Psycho-Pass has one of the greatest guns in the history of not only anime, but Sci-fi—The Dominator. I'm not even going to attempt to describe it, just watch the GIFs below.
(Warning: Gore incoming.)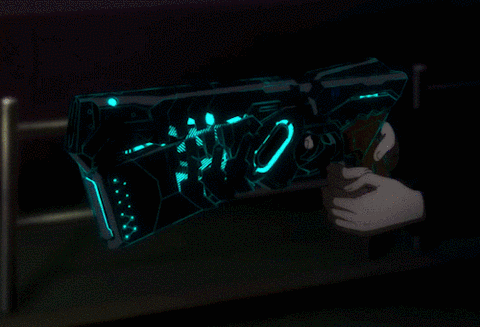 Sploosh.
God, it's just so cool. Seeing that gun transform for the first time had me re-watching that scene on a loop. Plus the stopping effect is so satisfying. The Dominator is one of my favorite weapons, from any show, ever.
And guess what? You can have one!
Obviously, none of these are working guns. You won't get to Eliminate Steve no matter how many times his dog poops in your yard.
For all my creative folks, these were the coolest tutorials I could find online. Go nuts, my crafty friends!
Now for the wallet killers.
MILD
The first option on the table comes to us from Sega (Yes, that Sega). This is as bare-bones as you can get. There are no lights. There are no sounds. There is no transformation. But it is still beautiful, and only $53.
MEDIUM

The second option today comes from BANDAI. This is definitely a step up from the Sega model. There are five modes for this gun. There are lights, sounds, and voices. But there is no transformation. Seeing as it is a step up, you may want to put aside multiple paychecks for this one. You can own it for about $160… And it's effing worth every penny.
SPICY

You may have noticed I said, "There is no transformation" for the first two guns. You may want an extra change of underwear for this one.Oh my god.
First and foremost, this beautiful item is brought to us by Cerevo. It has over 200 LED lights. It has Touch-Sensor Activation. Over 100 different voice samples. IT READS CRIME COEFFICIENTS IN REAL TIME WITH YOUR SMARTPHONE! And there are two versions with which to buy: The Standard Edition and the Special Edition. The only real difference between the two is the grip and emblem. The Standard grip and emblem are resin. The Special Edition's grip is Rosewood and the emblem is machined aluminum with a synthetic ruby.
Obviously, this one will absolutely set you back. But for those committed to authenticity, there are no alternatives.
One can dream, right?
---
Comments