Well, it's been a month, and the full purpose of the Nintendo Switch has been realized. I'm not talking about The Legend of Zelda: Breath of the Wild. No, I'm referring to something destined to become a classic in the hearts of gamers everywhere— Shinobi Refle: Senran Kagura.
For this innovative and forward-thinking game will finally answer the question every 10-year-old boy has asked since the beginning of time—What do bouncing boobs feel like?
Now I know what you're thinking. "Graham," you ask, "How inebriated are you, and do we need to call an ambulance?"
Well, friends, I am high on life. For in the soon to be future, I'll be able to enjoy those wobbly jobblies thanks to the highly sensitive Switch HD Rumble feature.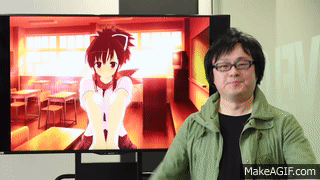 This game is brought to the masses by our visionary savior, Kenchiro Takiki, who has described this game as a "Pure and wholesome experience."
Now, I know what you're actually thinking this time. "How has Mr. Kenchiro Takiki been able to replicate the experience of these gyroscoping gazongas?"
Well, I'm no scientist, and neither is he. But luckily, it appears as though he has enlisted the help of some real-life scientists (or found a number of discarded, white trench coats). Watch these great scientific minds at work below. (Surprisingly SFW)
[youtube https://www.youtube.com/watch?v=zs_qbf4Nnzw]
However, if you were hoping for a wide selection of undulating sweater stretchers, I have distressing news. We will only be able to date Asuka. But seeing how this will quickly become the greatest selling game of all-time, I have no doubt there will be follow-ups for us (and our hands) to enjoy. No release date has been set for Shinobi Refle: Senran Kagura.
For the slackers, grab your Switch here (cuz if you didn't want one before… We know you do now.) Let us know how excited you are for the newest game and its vivacious features in the comment section below.
---
Stay in the know: Follow us on Facebook, Twitter, & Instagram
Comments